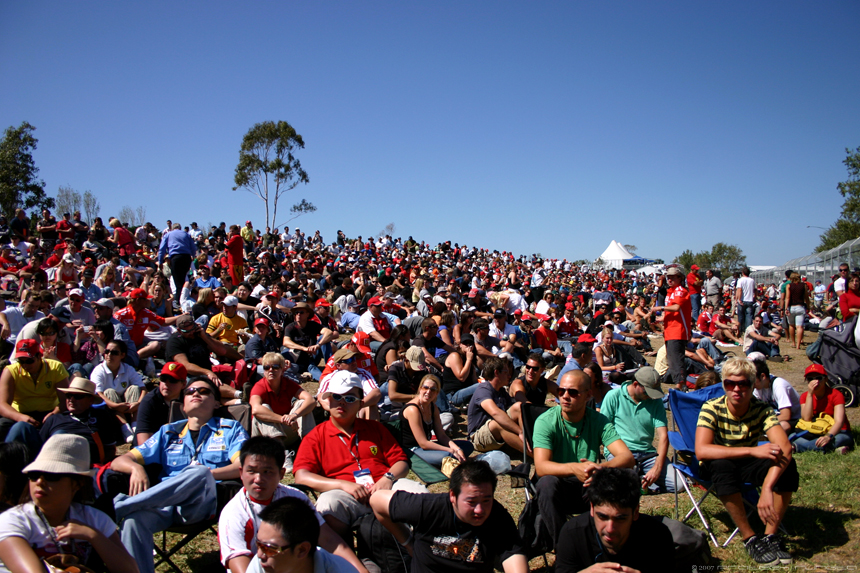 Thursday, March 22, 2007
Canon EOS 300D | 18.0mm | 1/2500s | f/4.0 | ISO 200 | Flash Off

Boy did people turn up to hear those V8 engines roar!
Watching a Grand Prix was quite unlike what I'd imagined it would be (in a good was obviously). For one, I was very disappointed on reaching Albert Park and finding the entire circuit to be surrounded by a tall mesh and then realizing that there for every race. I was just too ignorant to notice it on TV! Even though that dimmed my spirits initially, the day as a whole more than made up for it. What with 3 air shows, a dozen other smaller races, stunt bikers, race cars on display and loads of other things, why wouldn't it? I didn't expect to see nearly as many people turn up for the race but I'm glad they did.

But all of this was put behind once those 22 cars got in their grids and the engines were turned on. The sound these cars make is probably 100 times louder than what you hear in a television broadcast of an F1 race and it is freakin awesome! The high of the day however was at the end of the race when all of us poured onto the race track and ran up to the starting point to witness the winners go up the podium and open their champaign bottles. Hope the pic below gives you a feel of the excitement and craze that was in the air when Ferrari won the season opener.